Search
Search by part number or keyword
TVS Diodes in DO-218AB Package for Automotive Load Dump Protection, AEC-Q101 Compliant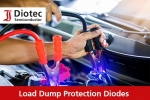 To view datasheets, pricing, delivery & order entry information, please click over part number series
Diotec offers TVS product families for load dump protection according to ISO 16750-2:2012(E), both for applications without central load dump limitation (according to standard Table 5, Test A) and for those with central limitation (Table 6, Test B).
The new 6.6SM8Z series with 6.6kW peak pulse power in DO-218AB is already available, it is complemented by the 4.6SM6Z series with 4.6kW. Both versions are compliant to AEC-Q101.
The 5KP represents an alternative in axial package, it allows up to 5kW at the usual rating with 10/1000µs pulses.
Classical alternator rectifier diodes in pressfit housings are the BYZ35 and BYZ50, which Diotec offers especially designed for the after sales market. BYZ35 and BYZ50 series offer suppressor characteristic and thus provide the central load dump protection.