Search
Search by part number or keyword
Product Change Notificacion: AMEOF3‐JZ & AMEOF1‐JZ Series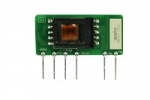 Aimtec has announced the following improvements; to view updated datasheets, pricing, delivery & ordering information, please click over product series:
Products affected: AMEOF3‐JZ & AMEOF1‐JZ Series
Product list: AMEOF3‐3.3SJZ AMEOF3‐3.3SLJZ AMEOF1‐5SJZ AMEOF3‐5SJZ AMEOF3‐5SLJZ AMEOF1‐9SJZ AMEOF3‐9SJZ AMEOF3‐9SLJZ AMEOF1‐12SJZ AMEOF3‐12SJZ AMEOF3‐12SLJZ AMEOF1‐15SJZ AMEOF3‐15SJZ AMEOF3‐15SLJZ AMEOF1‐24SJZ AMEOF3‐24SJZ AMEOF3‐24SLJZ AMEOF1‐5SJZ
Effective Date: May 3, 2017. Products with manufacturing date code of 1718 and after.
Description of change:
1. The input voltage range expands from 85 ‐ 264Vac to 85 ‐ 305Vac;
2. The maximum output current of AMEOF3‐3.3SJZ, AMEOF3‐5SJZ, AMEOF3‐3.3SLJZ and AMEOF3‐5SLJZ increases from 500mA to 600mA;
3. The internal switching IC changes;
4. The operating temperature range improves significantly and the power derating starts at much higher temperature: AMEOF3‐JZ series: 70°C versus the current (prior) derating point at 55°C; AMEOF1‐JZ series: 85°C versus the current (prior) derating point at 55°C.
5. The recommended external circuit changes. Further details referenced in the updated datasheet rev. R2 and after for AMEOF3‐JZ series and rev. R1 and after for AMEOF1‐JZ series.
Customer Impact: Customers will benefit from improved operating temperature range, enlarged input voltage range, increased output power for AMEOF3‐3.3SJZ and AMEOF3‐5SJZ models. Certain application changes will be needed to accommodate the recommended different external circuit related to the new internal IC and the 4mm shorter pins.