Search
Search by part number or keyword
Low Cost 1 Watt DC-DC Power Converters for Galvanic Isolation & Voltage Matching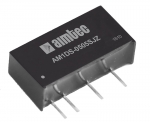 Aimtec has announced a new line of low cost 1 Watt DC-DC isolated power converters. Typically used for Galvanic isolation, Improved noise immunity, Isolated voltages, Opposite-polarity voltages or Multiple voltages matching, the 1 Watt "Low Power Win" AM1SS-0505SJZ & AM1DS-0505SJZ models are priced under $1.00 USD in 10k pc volume orders.
"Low Power Win" models are offered in 5VDC input / 5VDC output voltages, single High Quality Replica Watches 1.5kVDC isolated output versions, in 3 different packages: SMD, SIP4, and SIP7. All models are UL 60950-1 certified.
With their low price points and advantages associated with tried-&-true modular solutions, Aimtec's Low Power Win models represent a valuable option for power isolation & voltage matching board interfaces vs discrete solutions: faster time-to-market, reduced R&D costs as well as lower supply chain & logistical costs (single component vs multiple components).
Aimtec's Low Power Win models:
| | | | | | | | |
| --- | --- | --- | --- | --- | --- | --- | --- |
| Model* | Package type | Output Power (W) | Input voltage min (V) / Max (V) | Output voltage min (V) / max (V) | Output voltage type | Isolation (VDC) | Operating temperature (°C) |
| | SIP4 | 1 | 4.5 / 5.5 | 5 | Single | 1500 | -40°C / +105°C |
| | SMD | 1 | 4.5 / 5.5 | 5 | Single | 1500 | -40°C / +105°C |
| | SIP7 | 1 | 4.5 / 5.5 | 5 | Single | 1500 | -40°C / +105°C |
| | SIP7 | 1 | 4.5 / 5.5 | 5 | Single | 1000 | -40°C / +85°C |
*For complete datasheets, pricing, ordering & delivery information, please click over part number
For other competitively priced 1 Watt models with various input & output voltage options, isolation levels and packages, please consider the following series:
| | | | | | | | |
| --- | --- | --- | --- | --- | --- | --- | --- |
| Product Series* | Package type | Output Power (W) | Input voltage options (V) | Output voltage options (V) | Output voltage types | Isolation (VDC) | Operating temperature (°C) |
| | SIP4 | 1 | 3.3, 5, 12, 15, 24 | 3.3, 5, 9, 12, 15, 24 | Single, Dual | 1500 | -40°C / +105°C |
| | SMD | 1 | 3.3, 5, 12, 15, 24 | 3.3, 5, 9, 12, 15, 24 | Single, Dual | 1500, 3000 | -40°C / +105°C |
| | SIP7 | 1 | 3.3, 5, 12, 15, 24 | 3.3, 5, 7, 9, 12, 15, 24 | Single, Dual | 1500, 3000, 4000, 5200, 6000 | -40°C / +85°C & -40°C / +105°C |
| | SIP7 | 1 | 5, 12, 15, 24 | 3.3, 5, 9, 12, 15, 24 | Single | 1000, 3000 | -40°C / +85°C |
*For complete datasheets, pricing, ordering & delivery information, please click over product series number
Typical Applications:
ISM equipment
User interfaces
Field communications
Building automation
Industrial automation
Process control
Programmable logic controllers
Current loop transmiters/receivers
Utility/dispensing meters
Gate drivers