Search
Search by part number or keyword
New High Power UV-A & UV-A+ LEDs with Patented Build-In Quartz Lens eliminates need of secondary optics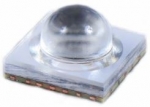 American Opto Plus LED Corp ("AOP") has introduced the L999- UVxxx series of high power UVA LEDs in SMD packages developed with patented Build-In Quartz Lens and built-in optics, a solution offering the following advantages:
1. Built in optics eliminates the need of secondary optic collimators for high power wide angle LEDs
2. Quartz lens prevent discoloring caused by material degradation when exposed to high intensity UV light or when exposed to chemicals used in curing
Designed for Sensing & Medical applications, the L999-UV series consist of 5 different UV A & UV A+ models offered in packages measuring 9.0x9.0x5.3mm, with 70o degree angles covering peak wavelengths from 365nm to 415nm.
To view complete specs of each UV-A & UV-A+ model, (including reliability tests data), pricing, delivery and ordering information, please click over part number series:
| Photo | Part Number | Description | Color | Wavelength(nm) | Intensity (mcd) | Angle |
| --- | --- | --- | --- | --- | --- | --- |
| | L999-UV365 | 9.0 x 9.0 x 5.3mm High Power SMD LED | Ultraviolet | 365 | 360mW | 70 |
| | L999-UV385 | 9.0 x 9.0 x 5.3mm High Power SMD LED | Ultraviolet | 385 | 750mW | 70 |
| | L999-UV395 | 9.0 x 9.0 x 5.3mm High Power SMD LED | Ultraviolet | 395 | 1650mW | 70 |
| | L999-UV405 | 9.0 x 9.0 x 5.3mm High Power SMD LED | Ultraviolet | 405 | 1650mW | 70 |
| | L999-UV415 | 9.0 x 9.0 x 5.3mm High Power SMD LED | Ultraviolet | 415 | 1800mW | 70 |
To view AOP's full line of High Power UV LEDs, please go to