Search
Search by part number or keyword
DComponents stocking NEW High Power TRM-915-R250 Embedded Wireless Module series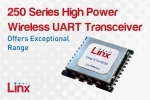 This new 250mW (900MHz) 250 Series RF transceiver module is designed for reliable bi-directional transfer of digital data over distances of up to 4 miles (6.4km, line of sight). Operating in the 902 to 928MHz frequency band, the module is capable of generating +23.5dBm into a 50-ohm load and achieves an outstanding typical sensitivity of -105dBm. This high output power gives the module exceptional range and also helps overcome noisy environments at shorter ranges.
The module implements a Frequency Hopping Spread Spectrum (FHSS) protocol along with networking and assured delivery features. It has a Universal Asynchronous Receiver Transmitter (UART) serial interface that can be connected directly to microcontrollers, RS-232 converters or USB adaptors. The module automatically handles all radio functions resulting in a UART-to-antenna wireless link. All configuration settings and data are accessed through the UART interface.
The 250 Series has a compatibility mode that enables it to operate with the smaller and lower cost 25 Series modules. This enables mixed systems where a determination between cost and range can be made.
To view pricing and availability, please go to http://www.dcomponents.com/results.php?term=trm-915-r250