Search
Search by part number or keyword
10 Watt Isolated DC-DC Power Converter in SIP8 package with 9~18VDC & 18~36VDC Input Voltage Ranges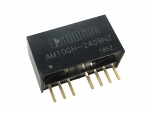 To view complete specs, pricing, delivery & ordering information, please go to AM10G-NZ & AM10GH-NZ
Aimtec adds the AM10G-NZ series & AM10GH-NZ 10W series to its SIP8 isolated DC/DC power converter lineup. This new series now increases the power density of our SIP8 line from 9W to 10W. The AM10G-NZ series provides a 2:1 ultra-wide input voltage range while the AM10GH-NZ provides a 4:1 ultra-wide input voltage range (9-36VDC) and comes standard with single output voltages of 3.3, 5, 9, 12, 15 and 24VDC with I/O isolation of 1500VDC.
Main Features
Ultrawide input voltage range: 9-18V (AM10G-NZ) & 18-36V (AM10GH-NZ)
Operating temperature range: -40℃ to +85℃
Efficiency high up to 86%
Input under-voltage protection, output short circuit, over-current protection
High power density, SIP8 package
International standard pin-out
This innovative series can be used for applications that have limited board space such as mobile phone chargers, portable electronics, IoT and wireless applications.
best replica watcheshttps://www.timereps.com/