Search
Search by part number or keyword
Low Profile Open Frame 2 Watt Isolated DC-DC Power Converter With Operating Temp of -40 °C to +105 °C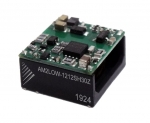 To view complete specs, pricing, delivery & ordering information, please go to AM2LO-Z
The AM2LO-Z series is a small SMD DC/DC converter measuring 0.50x0.44x0.27 inches, that offers great cost savings thanks to an improved manufacturing process. With Single Output and Dual Output models, AM2LO-Z also features excellent reliability and performance, offering a standard input voltage range of 3.3 & 5VDC as well as an output voltage range from 3.3-5V, ±3.3 & ±5V. This low height profile and open frame design will surely benefit your new system design.
Main Features
Operating Temp: -40 °C to +105 °C
High isolation voltage: 4200VDC
Low ripple & noise, 150mV(p-p), typ.
Unregulated Output
Dimensions: Single Output Models = 15.2x11.8x3.6mm; Dual Output Models = 15.24x11.8x3.6mm
Open frame, SMD type package
The AM2LO-Z is designed for instrumentation, industrial controls, communication and IoT applications.