Search
Search by part number or keyword
Low Cost 5W AC/DC Power Converter with 85~305 VAC Input Voltage Range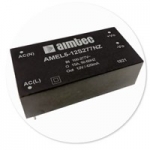 To view complete specs, pricing, delivery & ordering information, please go to AMEL5-277NZ
The new AMEL5-277NZ is an AC/DC converter which has been designed to offer greater economies of scale due to greater production automation, leading to improved reliability and performance. Offering a wide industrial input voltage range of 85- 305VAC and an output voltage range from 3.3-24V, this series will offer many benefits to your new system design.
Main Features
Universal Input: 85 - 305VAC/100 - 430VDC
Operating Temp: -40 °C to +70 °C
High isolation voltage: 4000VAC
Low ripple & noise, 100mV(p-p), max.
voltage protection • Regulated Output
The AMEL5-277NZ is designed for street lighting controls, grid power, instrumentation, industrial controls, telecom and industry 4.0.