Search
Search by part number or keyword
AOP's New High Power UV LED's with very low Rth ~ 5C/W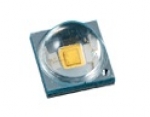 American Opto Plus LED Corp (AOP) is now offering High Power Ultra-Violete LEDs in 4mm x 4mm and 9mm x 9mm size, and viewing angle selection of 30/60/120 degrees viewing angles for 4x4mm, and 70 degrees viewing angle for 9x9mm package. The UV High Power LEDs from American Opto Plus offers wavelength selection from 365 to 415nm:
1. Wide Selection of Wavelength ranges between 365~370, 380~390, 390~400, 400~420 nm
2. For L944 package, viewing angle selection of 30, 60, 120 degrees using Glass Optical Lens
3. AOP UV high power uses Al reflector/Cu substrate, it has very low Rth ~ 5C/W
4. Selection of 4.4 x 4.4mm size or 9mm x 9mm size.
5. High Power output up to 9 Watts 1750 mW output.
To view datasheets, pricing, delivery information and/or order sample-type quantities, please click over each model number:
Package Series

AOP P/N

Specification

Size(mm)

Power

mW

Vf

If

Angle

L999

9.0*9.0

9W

1100

11.2

0.7A

70

9.0*9.0

9W

1450

11.2

0.7A

70

9.0*9.0

9W

1750

11.2

0.7A

70

9.0*9.0

9W

1750

11.2

0.7A

70

9.0*9.0

9W

1750

11.2

0.7A

70
To view all L944 & L999 models please go to:
L944 (4.4mm x 4.4mm) series: http://dcomponents.com/results.php?term=l944
L999 (9mm x 9mm) series http://dcomponents.com/results.php?term=l999
Package Series

AOP P/N

Specification

Color / Wave length

Size(W*L*H)(mm)

Power

mW

Vf

If

Angle

L944

365

4.4*4.4*2.4

3W

400

3.8V

0.7A

120

365

4.4*4.4*3.75

3W

400

3.8V

0.7A

60

365

4.4*4.4*4.45

3W

400

3.8V

0.7A

30

385

4.4*4.4*2.4

3W

500

3.8V

0.7A

120

385

4.4*4.4*3.75

3W

500

3.8V

0.7A

60

385

4.4*4.4*4.45

3W

500

3.8V

0.7A

30

395

4.4*4.4*2.4

3W

600

3.8V

0.7A

120

395

4.4*4.4*3.75

3W

600

3.8V
To view AOP's full line of High Power UV LEDs, please go to