Search
Search by part number or keyword
High Power LED TIR-lenses Modules with +/-10° Viewing Angle & 90 ~ 95% Optical Efficiency in Small Package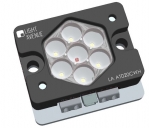 To view datasheets, video demos, pricing, delivery & order entry information, please click over part number
Light Avenue GmbH announces their new High Power TIR-based LED Modules SEVENGINE Product Series.
Light Avenue's Sevengine series is a new concept TIR-based modular LED with 20◦ viewing angle and high optical efficiency of 90~95%. It offers extraordinary optical output compared to the small package dimensions of only 26 x 32 x 10 mm³.
The +/-10° viewing angle & TIR-lenses along with the 90~95% optical efficiency & built in NTC makes the Sevengine a unique standard solution for general lighting, design illumination, stadium lighting, specialty lighting, position lighting, disinfection systems, sterilization, CCTV, & night vision applications.
Main features:
Leading edge of light engine technology
20◦ radiation angle at low module height
High optical efficiency up to 90-95%
Dimension 26 x 32 x 10 mm3 (L x B x H )
Dual channel controlling, tunable from cold to warm white
Middle LED individually addressable
Very homogeneous and high efficient emission
High light density due to direct chip bonding with integrated TIR silicone lens
Thermal management controlling due to integrated NTC with connector
Modules can be connected in series up to 300V
Highest mechanical demands and stress possible
Different housing options like waterproof, array layout, housing colours
Module can be equipped with secondary lenses and drivers
Product Selector Chart
To view specs, delivery & pricing, please click over part number:
| | | | | | | |
| --- | --- | --- | --- | --- | --- | --- |
| Model Number | Color | Typ. Wavelength | Typ. Brightness | Measurement Current | LED Size | Radiation Angle |
| LA AT020UYG | Ultraviolet | 367 nm | 7000 mW | 1000 mA | 32 x 23 mm | 20 ° |
| LA AT020HBH | Hyper Blue | 450 nm | 9000 mW | 1000 mA | 32 x 23 mm | 20 ° |
| LA AT020SGH | Standard Green | 527 nm | 1500 lm | 1000 mA | 32 x 23 mm | 20 ° |
| LA AT020PGH | Pure Green | 550 nm | 3400000 mlm | 1000 mA | 32x23 mm | 20 ° |
| LA AT020URH | Ultra Red | 625 nm | 1300 lm | 1000 mA | 32 x 23 mm | 20 ° |
| LA AT020HRE | Hyper Red | 660 nm | 6000 mW | 1000 mA | 32 x 23 mm | 20 ° |
| LA AT020CIS | Infrared | 730 nm | 2200 mW | 1000 mA | 32 x 23 mm | 20 ° |
| LA AT020NIT | Near Infrared | 850 nm | 4000 mW | 1000 mA | 32 x 23 mm | 20 ° |
| LA AT020MIT | Mid Infrared | 940 nm | 4000 mW | 1000 mA | 32 x 23 mm | 20 ° |
| LA AT020WWG | Warm White | 2600 K | 800 lm | 1000 mA | 32 x 23 mm | 20 ° |
| LA AT020NWG | Neutral White | 4000 K | 1200 lm | 1000 mA | 32 x 23 mm | 20 ° |
| LA AT020CWG | Cold White | 6000 K | 1800 lm | 1000 mA | 32 x 23 mm | 20 ° |
Product Demo Video: https://www.light-avenue.com/news/sevengine/