AMEOF30-JZ: compact open-frame 30 W AC/DC converter with 85~264VAC input, no-load 0.5W, Class B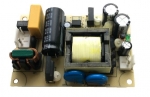 The AMEOF30-JZ series is a compact, open frame 30W AC/DC converter. It accepts a universal AC input of 85 - 264VAC and DC input voltage range of 100 - 370VDC. The AMEOF30-JZ features low no-load power consumption of 0.5W, high efficiency up to 88%, and reinforced isolation of 3000VAC.
It offers an EMC compliance of CISPR32/EN5 5032 Class B and meets IEC/EN/UL 62368 standards. The converters also include output short circuit, over-current & over-voltage protection. These converters are widely used in industrial, office and civil applications such as modems, printers, and telecom devices.
To view datasheets, inventory availability, pricing and delivery, please click on desired part number below:
| | | | | | | | | |
| --- | --- | --- | --- | --- | --- | --- | --- | --- |
| Model | Availability | Input Voltage (VAC/Hz) | Input Voltage (VDC) | Max Output wattage (W) | Output Voltage (V) | Output Current max (A) | Maximum capacitive load (µF) | Efficiency @ 230VAC (%) |
| AMEOF30-3.3SJZ | In Stock | 85-264/47-60 | 100-370 | 13.5 | 3.3 | 4.1 | 24,000 | 73 |
| AMEOF30-5SJZ | In Stock | 85-264/47-60 | 100-370 | 20.5 | 5 | 4.1 | 12,000 | 78 |
| AMEOF30-9SJZ | In Stock | 85-264/47-60 | 100-370 | 30 | 9 | 3.333 | 5,600 | 82 |
| AMEOF30-12SJZ | In Stock | 85-264/47-60 | 100-370 | 30 | 12 | 2.5 | 5,400 | 84 |
| AMEOF30-15SJZ | In Stock | 85-264/47-60 | 100-370 | 30 | 15 | 2 | 2,400 | 86 |
| AMEOF30-24SJZ | In Stock | 85-264/47-60 | 100-370 | 30 | 24 | 1.25 | 1,440 | 87 |
| AMEOF30-48SJZ | In Stock | 85-264/47-60 | 100-370 | 30 | 48 | 0.625 | 600 | 88 |