New 8 watt AC-DC LED driver in cylindrical package features universal input range of 90-264 VAC with 47-440Hz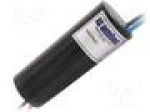 May 28, 2015– Montreal, Canada – Aimtec's new 8 Watt AMEPR8D-AZ series AC-DC LED Driver series operates with a universal input range of 90-264VAC with 47-440Hz frequency and has options for current dimming through a triac. Designed for retrofit lighting and indoor electrical boxes.
For complete specs, pricing, stock availability and delivery, please click on the model number of your preference:
| | | | | | |
| --- | --- | --- | --- | --- | --- |
| Model Number | Power (W) | Input Voltage (V) | Output Voltage | Max Output Current(A) | Package |
| AMEPR8D-1270AZ | 8.4 | 90~264VAC | 6~12 | 0.7 | IP67 |
| AMEPR8D-1840AZ | 7.2 | 90~264VAC | 9~18 | 0.4 | IP67 |
| AMEPR8D-2435AZ | 8.4 | 90~264VAC | 12~24 | 0.35 | IP67 |
Product features:
· Input to output isolation of 3000 VAC
· Continuous short circuit protection
· Over voltage protection, over load protection
Active power factor correction
· IP67 rating
· Operating temperature range of -20°C to +80°C (with derating at 60°C)
· Cylindrical package with Ø26.5 and length of 70 mm
Any of these models can be used either with universal input voltage range supply from 90- to 264-Vac or with any of the triac specific voltage ranges: 90- to 135-Vac or 180- to 264-Vac. swiss replica watches
These devices have active power factor correction and are specified for power factors of 0.98 at full load and 115-Vac input and 0.95 at full load and 230-Vac input.
These power supplies have linear thermal derating beginning at 60 degrees C and reach a maximum of 20% power at 80 degrees C.
Applications for use within rural agricultural, heavy industrial, and other areas or regions which are prone to 'dirty' electrical conditions which could include excessive voltages surges or spikes, and may damage or cause early life failure of product. In this case consideration should be made by the end user to ensure that adequate line or mains surge suppression is installed in front of Aimtec device to ensure the longevity of the products.
For more information, please email customerservice@dcomponents.com or call 1-802-752-4321.
This wrist replica watches situation remains safe and sound getting a azure very given anti-reflective coating. Round the right side in the situation, there is a screw-lower crown and a pair of chronograph pushers which are charmingly-designed and suit perfectly while using watch. Its extra-large crown is signed while using Greek letter PHI round the tip that's a sign of balance and perfection of Baume & Mercier. The pushers are pump-styled and slightly domed, getting a small dimple around their circumference. The attractive dial comprises two chronograph counters plus a black-on-whitened date window that's situated between 4 and 5 oclock positions. The 30 minutes chrono counter is found in the 3 oclock position, even though the minute sub-dial can be found on the other hand, within the nine o??clock position. This tag heuer replica watch is operated by the Joux-Perret caliber 8147-2 Flyback chronograph movement that's exclusively produced by La Joux-Perret for Baume & Mercier.