Light Sensors – Functional Lighting for the Daily Activities in our Lives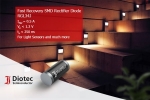 Energy-efficient ways to illuminate corridors and stairs.
Many luminaires are equipped with motion and also twilight sensors, and you are even able to adjust the light intensity. In addition, light sensors save energy. A big plus for the environment and really easy on the wallet!
Fast Recovery SMD Rectifier Diodes like Diotec's RGL34J with an I_FAV of 0.5 A
a V_F < 1.3 V and t_rr < 250 ns can be used in the capacitive power supply unit of such light sensors. A simple yet power saving way to supply the sensor.
To view datasheets, inventory availability changes, pricing and delivery, please click on desired part number below or contact customerservice@dcomponents.com: