aconno's IoT toolbox – develop your Bluetooth® Low Energy IoT solution, optimized for Time-to-Market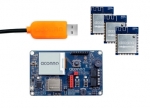 The Internet of Things is a ground-breaking wave of digital revolutions delivering endless possibilities for new projects and products. aconno's IoT toolbox makes it easy to become part of the revolution.
About Aconno
Video: Introducing aconno
https://www.youtube.com/watch?v=YZiogfZWapM&list=UUT0Nwe92lhlVmQdOyFk2SeA&index=29
Video: Production - Made in Germany
https://www.youtube.com/watch?v=irlwQQZVRt8&list=UUT0Nwe92lhlVmQdOyFk2SeA&index=6
Video: Custom Solutions - developing with aconno
https://www.youtube.com/watch?v=AK4MDvmSUzg&list=UUT0Nwe92lhlVmQdOyFk2SeA&index=7
IoT Development Tools
Aconno's wireless development board and Bluetooth® Low Energy products are designed to support you to easily take a product from rapid prototyping through to mass production. With aconno you can cut development time and costs significantly when building new products and services.
Connectivity Products
Our products are designed and certified for IoT - ultra-low power and strong application performance. This makes them great for prototyping and for mass production.
Beacon Solutions
Here is our range of programmable Bluetooth Sensor beacons. They all come in a unique and robust IP45 case with a CR2450 battery. IP65 available upon request.
| | | |
| --- | --- | --- |
| | | Back to News |