Silicon Carbide Schottky Diode SICW20C120 for Solar Inverter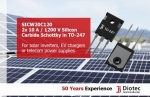 Summer is the perfect season to make the most of the power of the sun. Not only our immune system is activated, photovoltaic systems are also in top form - just like the PV systems on the roofs of the Diotec headquarters in Germany. Silicon carbide Schottky diodes, like the SICW20C120 can reduce losses in the solar inverter.
Solar inverters convert the direct current (DC), generated by solar panels, into alternating current (AC). The power electronics switch high voltages at very high frequencies; the switching losses in the required freewheeling diodes and IGBTs become dominant here. Schottky diodes based on silicon carbide (SiC) can be designed for very high blocking voltages. They offer a reverse recovery time of almost zero (more correctly one would have to speak of the capacitive discharge time). This leads to significantly reduced switching losses, both in the diode itself and in the IGBT. The SICW20C120, from Diotec is a 2x 10 A / 1200 V SiC Schottky diode in a TO-247 package. Their capacitive storage charge is typically only 41 nC, which ensures the desired fast switching time and thus a reduction in switching losses.