New UV LEDs with Peak Wavelengths of 265~275nm, 365-395nm, & 405-415nm, in SMD packages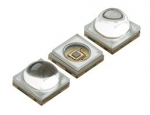 To view datasheets, pricing, delivery & order entry information, please click over part number
American Opto Plus Inc. ("AOP") has introduced a new line of UVC & UVA LED's developed on Patented Quartz Glass Lens with Built in Optics available in 30o,60o, and 120o Degree Angles.
An advantage for designs with high power wide angle LEDs, the Build-In Quartz Lens eliminates the need of secondary optics collimators.
Another advantage of Quartz lens is the prevention of discoloring caused by material degradation when exposed to high intensity UV light or when exposed to the chemicals used in curing.
Wavelengths are offered in 3 different SMD package dimensions of 4.0mm x 4.0mm, 4.4mm x 4.4mm, and 9.0 x 9.0mm. For summary of product series & main specs of the UV C & UV A product series, please refer to the chart below.
To view datasheets (including reliability tests data), pricing, delivery and ordering information, please click over part number series:
Parameter

UV C

Quartz Micro-Lens Al Reflector with Cu Substrate

Or Ceramic AlN Substrate

UV A

Quartz Micro-Lens Al Reflector with Cu Substrate

L944-MUV365-x (TBA)

UV A+

Quartz Micro-Lens Al Reflector with Cu Substrate

Peak Wavelength

λp (nm)

265-275nm

365-395nm

405-415nm

Viewing Angel

2θ1/2(deg.)

30o,60o,120o

30o,60o,120o

30o,60o,120o

Forward Current

If (mA)

20-150mA

350-1500mA

350-1500mA

Forward Voltage

Vf (V)

7.0-10.0V

3.0-4.50V

3.0-4.50V

Spectra half-Width

∆λ (nm)

15nm

15nm

15nm

Foot print/Package Dimension

mm

4.4x4.4mm

4.0x4.0mm

L944 series = 4.0x4.0mm

L999 series = 9.0x9.0mm

Applications

Sterilization

Water and air Purification

Medical Phototherapy

Chemical Analysis

UV Curing

Sensing

Medical